Property Management Since the mid-1970s
D & G Equity Management is one of the largest and oldest property management companies in Sonoma County. D & G was founded in 1982 by owners Michael DeProto, a licensed California real estate broker, and Patricia Gerlach. Michael and Patty, a husband-and-wife team, built the business from the ground up into the vibrant, successful full-service property management company it is today. Their two daughters, Jill and Ellen, have joined the family business. Jill is also a licensed real estate broker.
We have an important role in our community to provide healthy housing to qualified individuals. D & G knows the important role of conscientious property management and is committed to ensuring that we provide excellent customer service. Our extraordinary staff is dedicated to finding the best home for our customer and the best tenant for our client.
We have long term clients whom have been working with us since the company was founded and continue their loyalty to this day. We feel having a line of open communication with both our clients and tenants is one of the many reasons for our longevity.
Our high expectations inspire our clients to improve their properties. Maintaining and upgrading the properties attracts the desirable, happy tenant. Our experience is that a happy tenant will take care of the property as if it were their own.
We have several, innovative ways of advertising D & G. Beyond our own, always current, website: dandgequity.com; we place our listings on numerous websites. We personally take the photos of each home, capturing the features that a qualified individual is seeking. We create the ads ourselves, with a keen eye to making sure that all photos represent the property accurately. We take pride in the presentation of all our homes.
D & G and Russian River Vacation Homes staff members connect with our community by being volunteers in many organizations, from the local radio station and nonprofit agencies, to our Rotary club.
For further information please contact the following:
Michael DeProto – CEO, Managing REALTOR®/Broker & Commercial Property Services
License #01920878
I have been managing property in Sonoma County for 40 years. As a licensed real estate broker and active community member it has been my goal to provide safe and clean homes and commercial spaces that make people happy to be in them.
Read More »
I have been instrumental in renovating many properties, most recently the renovation of a large block of storefronts in Guerneville. It is my goal to enhance the owners investment in the property and the tenants enjoyment of it. I am a member of several community organizations including local chambers of commerce and real estate industry groups. I have been a member of Russian River Rotary for over thirty years, where I have served as President, secretary, and treasurer and worked to increase its fundraising and contributions to schools and students. I am proud of the longevity and growth of my property management business and have clients who have been with us for over thirty five years.
2016 Member of North Bay Association of REALTORS® and BAREIS MLS
Office: 707-869-0808 ext 103
Fax: 707-869-1739
Patricia Gerlach – President & Accounting
As the co-founder of D&G Equity I have worked for the last 40 years to maintain the records for our clients. We have instituted many innovations in our tracking and accounting programs. I have gone from pen and paper to state of the art database systems. Through all the changes it has always been my goal to strive for the highest degree of accuracy and clarity.
Read More »
I am an active member of the river community. Over the years I have participated in local organization including Guerneville School's GATE program, and River to Coast Children's Services, where I am presently the board treasurer. My greatest pleasure is to gaze off my deck at the beautiful redwood forest that surrounds me and know that this is truly my home.
Office: 707-869-0808 ext 104
Fax: 707-869-1739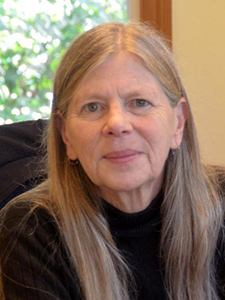 Jill DeProto – Manager, REALTOR®/Broker, Property Management Services
License #01173800
I joined D & G Equity Management and Russian River Vacation Homes in 1986 — just in time to get a crash course in property management during a major flood! During my four decades as Manager of D & G Equity Management, our family business has expanded to include the Sebastopol, Santa Rosa, Wikiup, Windsor, and Rohnert Park areas. It has become the "go to" Property Management Company in West County.
Read More »
As both a licensed California Real Estate Broker and a member of the National Association of Residential Property Managers (NARPM), I work with homeowner clients to improve their properties. That and building relationships with "blue ribbon" tenants are the most rewarding aspects of my job. As of April 2018, we added sales to our list of services offered. Having the property management experience provides me with a wealth of knowledge needed to be successful in the field. Whether people are finding a rental property or purchasing a house, I hold the highest level of fiduciary relationships with my clients, customers, and tenants, and it gives me great reward when they find the place they can call home.
Most people know of my passion for food and wine, horses and community service. I was a professional barrel racer and horse trainer early on and was crowned Rodeo Queen in my district in 1981. Beginning in 2005, I was a member of the Russian River Rotary Club and of the Sebastopol Sunrise Rotary Club from 2006 to 2011. I served as president from 2008 to 2009 and as Rotary District 5130 Assistant Governor from 2010 to 2011, organizing several large district events during my term. I was also honored in serving as the Rotary District Governor's Aid. The highlight of my Rotary membership was organizing local events, including the Community Holiday Dinner where I put my culinary education to use.
These days, I am focused on the ever-changing field of Property Management and keeping current with all the Tenant/Landlord laws that come with it! And, I remain dedicated to our community.
2016 Member of North Bay Association of REALTORS® and BAREIS MLS
Office: 707-869-0808 ext 107
Fax: 707-869-1739
Email: jill@riverhomes.com
Sherry Garcia –
Front Desk Receptionist and Social Media
My name is Sherry Garcia and I have been a resident of Guerneville since 2002. I was born in Sacramento and moved around most of my child hood and found that my life brought me here on the Russian River. I have the beautiful Redwoods surrounding me and the river around the corner. I am in love with my small town and wouldn't want to be anywhere else.

Read More »
I met my husband here and got married in January 2005 in Tahoe. We have three fabulous children who love to play sports with and are on our local schools teams. My hobbies include: reading, watching movies, going out with my friends and taking my kids and participating in their sporting events. We rented a home from D & G back in March of 2016 and then later joined their team. I love working with the various types of homes. The area offers a lot of unique properties with the original craftsman style to tree houses, river front and mountain side properties.
Office: (707) 869-0808 ext 106
Fax: (707) 869-1739
Pete Gilmore – Maintenance Supervisor
Hello, my name is Pete Gilmore. I moved to California from Pennsylvania in 1985. I have spent over two decades working as a specialty contractor, fabricating natural stone slabs. In this capacity, I was able to work on projects as far away as Jakarta, Hawaii, Canada and various points on the East Coast. 
Read More »
Upon leaving the contracting and special project trades, I found myself drawn into the music industry. I became a Customer Service representative for a music venue owned by a member of the Grateful Dead. After ten years, the venue closed and I decided to return to my tradesmen roots. I started doing vacation home inspections with Russian River Vacation Homes and transitioned to D & G Equity Management. My new goals include being an approachable and helpful Maintenance Manager while becoming an integral part of D & G Equity and the community. I look forward to working with the many clients, owners, residents, tradesmen, and contractors.
I have lived in Forestville since 2004 with my wife, who is a Winemaker. We don't think we could live anywhere else. Our backyard literally ends at the banks of the Russian River with amazing views, surrounded by towering redwoods. My hobbies include; backpacking and mineral collecting. I also have a home art studio, where I hand sculpt stone wine racks out of Amber Onyx that I gathered from the Uinta mountain range in Utah.
Locally-Driven Sonoma County Property Management Services
High Ethical Standards
Our business was born and has grown with the highest level of ethical standards in the industry.
Building & Retaining Relationships
It's proven when D & G is building relationships because we retain Clients who hired us decades ago still to this day.
How We Value Properties
We value and take care of properties as if they are our own. We understand our neighborhoods and protect Client's investments.
We've Been in Business for Over 45 Years
You're contacting a company that's family-owned and local since the mid-1970s.
Our Clients are Loyal and We are Loyal Too
We have been working with some of our property owners and maintenance experts ever since we opened our doors.
We Lead With Our Values
Our customized services are more than rent collection and tenant placement to us – we are all about your success.
We Care about Our Community
Our team volunteers in many organizations, local radio, nonprofits, and Rotary Club.
We are Passionate about Building Relationships
Investing in and maintaining owner and tenant relationships makes us stewards of property ownership.
You'll Love Our Unparalleled Service
Our talented team takes care of your unique needs every step of the way. We work hard to exceed expectations.
Mailing Address
D & G Equity Management
P.O. Box 418
Guerneville, CA  95446